What Gets You Energized?
Don't know about you, but it's a Monday over here! I've needed extra coffee today, so this week's list is kind of ironic.
List the ways you get energized:
Dancing and singing in the shower. Yep, I'm one of those people! I crank up my Spotify playlists, sing at the top of my lungs and pretend that I'm Latin and can do those moves. God only knows what I really look like! But it makes me feel good.
Swimming! Being in the water is so good for you. I can't stress that enough. My current pool is tiny, but I still do my laps.
Dance parties with the family! Do you remember the final scenes of Enchanted when they are (adorably) dancing in their apartment? You might've thought no one actually does that- but we do! Totally corny, shamelessly grooving in the living room. 
A little aroma therapy: One of the best things to wake you up in the mornings- citrus scented body wash. Try it, really!
Okay, what are your secrets? Tell me what you do to get energized!
East Texas Book Bash 2017!
Thanks so much to Laura Folk of Sweet Books for a wonderful event! Also, to everyone who came out and made this event so special. Laura has a photo album you can check out and here are some of my favorite pics from the signing: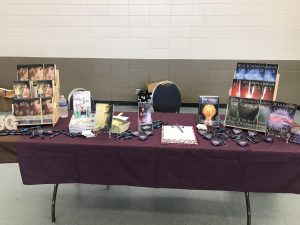 For those of you who haven't made it to one of my signings, this is typical setup. I love showing off the books and giving out swag! It's a lot of fun!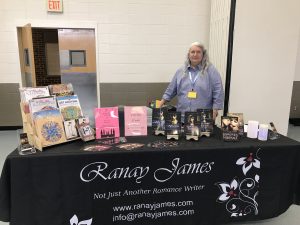 Here is my fellow author, Ranay James, and all the goodies at her table.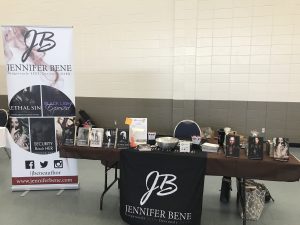 My next door neighbor, the elusive Jennifer Bene, was a hoot! We hit it off and now stalk each other on social media.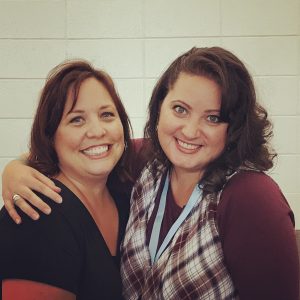 This is my super fan! I love Sarah and her ability to make me feel like a total rockstar!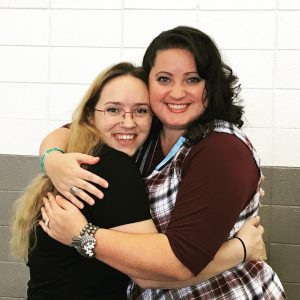 Meet thriller writer, Courtney Shockey. She's up and coming in the genre and I'm so very proud of everything she's accomplished. We met a couple years ago and talked about how to selfpublish. Now she has books coming out her ears! It's great! Love her and The Grumpy(her dad) mucho!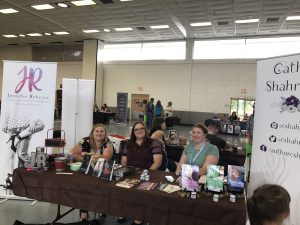 Across from me was Jennifer Rebecca who I had to meet because of her tagline… "More happy endings than a sketchy massage parlor." How could I not want to meet the brain behind that?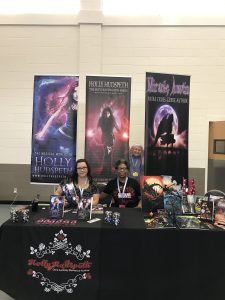 My other neighbors were familiar faces, Holly Hudspeth and Miracle Austin. These are two of the sweetest ladies in the world! If you enjoy si-fi and fantasy, these are your new favorite authors!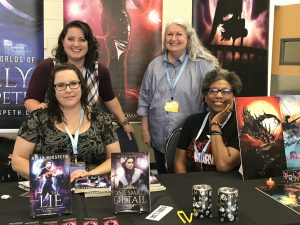 All of us together- Ranay James, Holly Hudspeth, and Miracle Austin.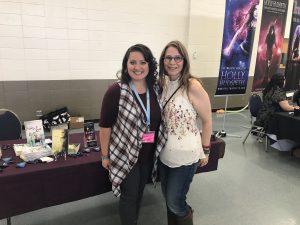 I am lucky to be a part of this lady's publishing journey! Meet Phoebe, a soon to be published children's author. Woohoo! I'll have more about her books in future posts, for sure!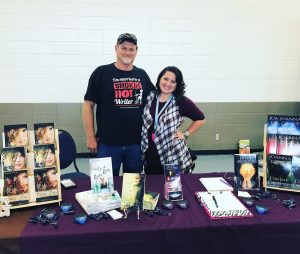 This crazy hubby came to support me and show off his shirt. It says, "I'm married to a smoking hot writer… and yes, she bought me this shirt." LOL. It gained a lot of attention. Thanks to all the spouses who support their writers. It would be so much harder without you.